About Me

I have been a doula at over 100 births, and have trained over 3,000 new doulas. I hold doula-training workshops all over the country. I originally trained in 1987 as a Certified Childbirth Educator (CCE) with the National Childbirth Trust in the UK. Since 2014 I have been a CCE with Lamaze International. I was a founder member of Desert Doulas in Tucson, AZ in the 1990's. From 2013 to 2018 I was a reviewer on the DONA International doula certification committee. I have represented DONA International at the state level as an Ambassador for both New Jersey and Arizona. Since 2014 I have been a Certified Lactation Counselor and since 2021 I have also been a certified Microbiome Parent Educator.

My book "Labors of Love: A Doula's Birth Stories" was published in December 2010 and reprinted in 2014 and again in 2018. On this site you can register on-line for my training workshops and if you like, purchase a signed copy of my book.

I am on the board of directors of both Watching over Women and Babies and Birth and Baby Services. I am trained in using the in8 needs and resource cards to support clients. I have a husband who is good with computers and web pages, three wonderful children and six grandchildren (including triplets!).
In 2000 I graduated from the Desert Institute of the Healing Arts (subsequently a Cortiva school) in Tucson, Arizona, and set up business as a licensed massage therapist, specializing in prenatal massage and trigger point therapy. Since then I have provided massage therapy to private clients, taught prenatal massage to students, and provided instruction to therapists. I was a founding partner of Hillsborough Massage Therapy, LLC in New Jersey. I worked for Cortiva Institute nationally as a pre-natal massage instructor, and I taught pre-natal massage in luxury spas across the USA for Mama Mio ("fit skin for life").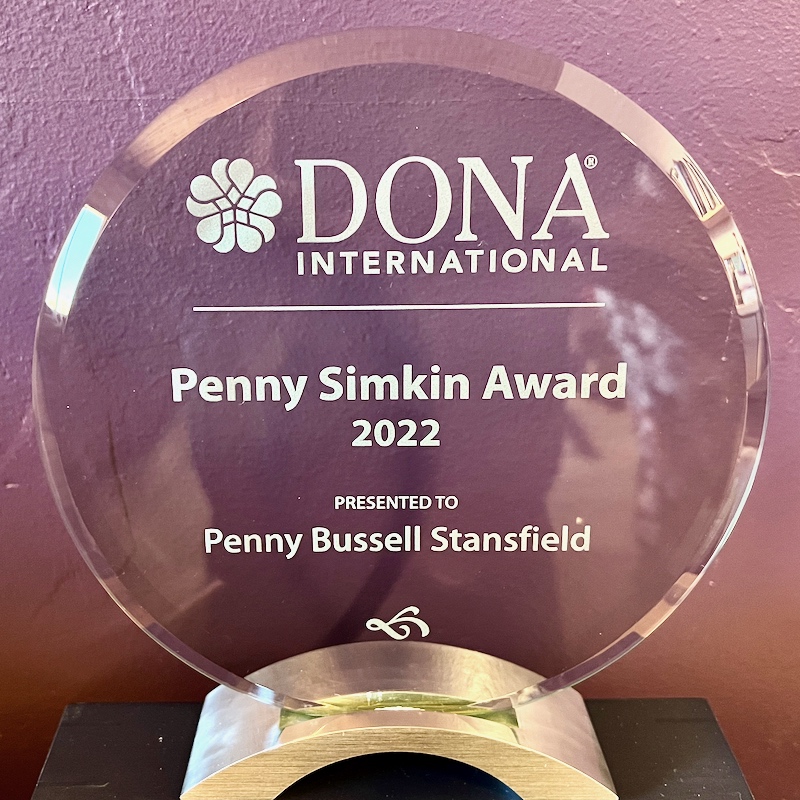 Penny Simkin Award

At the 2022 DONA International Summit, I was astonished and honored to be given The Penny Simkin Award (an Individual Doula Award).
According to DONA "This Doula Spirit and Mentorship Award honors doulas who show extraordinary doula spirit through their outstanding efforts in promoting and caring for doulas and childbearing people in their communities."